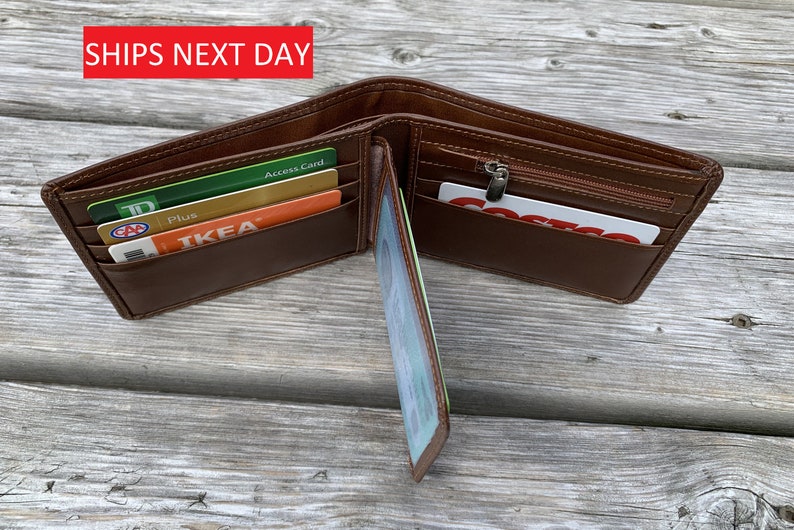 ITEM DETAILS
Handmade
Our wallet makes a perfect gift for him on his Birthday, Graduation, Wedding, Anniversary, Thanksgiving, Christmas, or Father's Day. ✨ ✨
Handmade item.
Made to order.
%100 Genuine Leather
P R O D U C T ∙ I N F O
• Material: %100 Genuine Leather
• Dimensions: 4.5 " x 3.7″ x 0.60 " (11.3 x 9.3 x 1.5 cm)
• Features:
– 2 money slots
– 8 card slots
– 3 hidden slots
– 1 zippered slots
👉 PERSONALIZATION :
At the last page of checkout, below the Submit Order button, there is a box where you can "Add an optional NOTE to the seller." Simply leave your engraving instructions there and you are all set! If you do miss this step, simply shoot us an message and we will make it right!
Front: Max. 2,3 letters or names / Or Template ( F1, F2, F3, F4, F5, F6, F7, F8, F9 )
inside: Max 25 words
👉 SHIPPING TIME
Delivery Time Domestic (in Canada ):
Standard Shipping: 3-8 Business days
NOTE: Due to the nature of the material, the shade of leather can vary slightly from that pictured. As the wallet is used, it becomes softer and has a better quality look.
NOTE: If no font is specified for the interior, it will be written with font D. If no template is selected for the front part, F8 is processed. We will try to do the best for you. 😊
NOTE: For orders outside of Canada, it is down to the discretion of the customs agency in your territory whether customs will be charged on the import of this item. It's unusual but can happen. Any fees incurred are the responsibility of the purchaser.
Our wallet makes a perfect gift for him on his Birthday, Graduation, Wedding, Anniversary, Thanksgiving, Christmas, or Father's Day. ✨ ✨
👉 Click " Add to Cart " and create your order !
Learn more about this item
Accepted
Exceptions may apply
There was a problem calculating your postage. Please try again.
Country
———-CanadaUnited States
Post code
Please enter a valid post code
Support this Canada-based shop
You're supporting a shop close to home with your purchase.>
Related posts