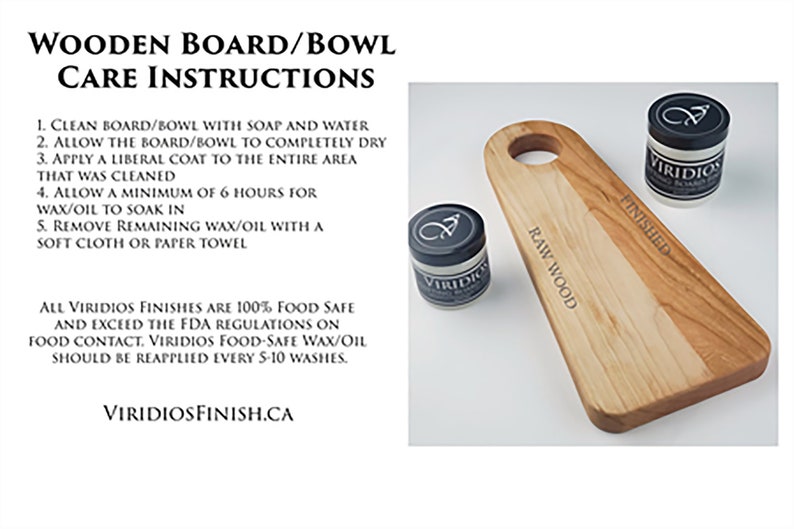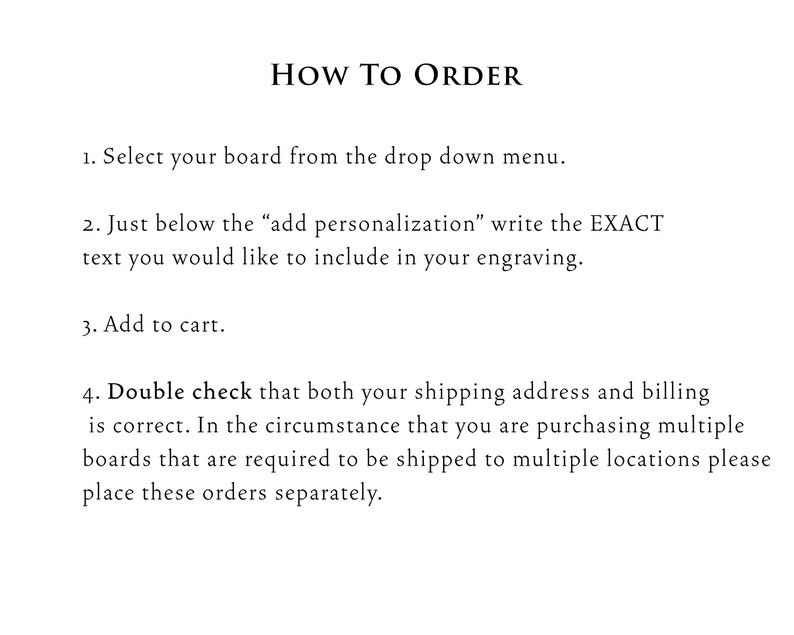 Engraved Cutting Board, Customized Chopping Board, Gifts for Him, Christmas Gift, Wedding gift, Personalized Cheese Board, Engraving 003
All of our cutting boards are handmade in our shop in Hamilton, Canada. We practice green building techniques when constructing the boards. More than anything we are trying to take gift-giving to a more personal level. Contrary to the effect of giving a gift card, or one of the many generic gifts that are commonly given a wooden board with an engraving is sure to leave a lasting impression. Whether you are looking for a gift for a family, a couple or an individual we have something to meet your needs. We have tried to cover all occasions including Weddings, Engagement gifts, Anniversaries, Housewarmings, Retirements, Father/Mother's Day gifts.
CUTTING BOARD MAINTENANCE
The maintenance of the cutting board is vital to its longevity. Cutting boards can warp and split when they dry out. Applying the Cutting Board Wax will increase the life of the cutting board substantially. Below is a guide to optimally maintaining your new cutting board:
1. Wash the board with soap and water when you first receive it.
2. Allow all the water to dry.
3. Apply a fresh coat of wax to the entire board.
4. Allow the wax to sit on the board for 6-8 hours.
5. Wipe all excess wax off the board.
Our cutting board wax is available for purchase in the drop-down menu just below the board selections. All our boards come finished with this wax on it.
HOW TO PLACE YOUR ORDER
1. Select the board from the drop-down menu.
2. Just below the "add personalization" write the EXACT text you would like to include in your engraving.
3. Add to cart.
4. Double Check that both your shipping address is correct. In the circumstance that you are purchasing multiple boards that are required to be shipped to multiple locations please place these orders separately.
ALL OUR BOARDS ARE UNIQUE!
As a disclaimer, we must emphasize the fact that no piece of wood is exactly the same. There may be slight variations in the color of the wood.
ENGRAVING
Walnut is a darker wood. The engravings will not show as well as they do on Cherry and Maple. We use a laser engraver that burns the wood. This mean on the darker wood the engraving will be more subtle.
CORPORATE EVENTS
Make our boards your next give away or gift at your upcoming corporate event. Volume discounts are available.
THANK YOU for your consideration in purchasing our products.
The Green Woodworking Team
Learn more about this item
Accepted
Exceptions may apply
There was a problem calculating your postage. Please try again.
Country
———-CanadaUnited States
Post code
Please enter a valid post code
Support this Canada-based shop
You're supporting a shop close to home with your purchase.>
Related posts